Ambient scenting is an ancient art that promotes conviviality, revitalizes, enhances, and affects our mood. A true mood enhancer, which also improves brain activity.
The new model is a sensitive home,   store,  hotel,   SPA. Sensitive, intelligent, emotional.
The ability of smell to send signals, to influencing interpersonal relationships, and alter moods has always existed, but only since few years science has explored the fifth sense with a deeper commitment.
There are smells that help to focus, others to relax, others that encourage purchasing and which, like the effect of a Proust's madeleine, bring back in time, triggering a physical and psychological process that connects perfumes, images, stories and memories.
That is why nowadays we talk more and more about olfactory design and olfactory branding is – where  a tailor made olfactory signature is positioned or diffused, just like a piece of furniture inserted in a global context of interior design and in a harmonious but focused way.
The atmosphere of a store, a hotel or any  other business spaces of  a brand is also made up of its smell, as the first detail that is perceived by stepping in, even before the visual image. Basic rule: a fragrance for interior design needs to emphasize an environment, never overwhelming it. In some cases it is the décor itself to guide the choice of the fragrance.
Let's make examples: in a cozy and romantic English style salon, a honey scent is recommended. If you have Provençal style furniture and, younger and fresher, it is best to opt for a English or freshly cut grass base. For a more important environment, perhaps in Napoleon III style, or in any case with antique furniture, floral fragrances, perhaps with peony notes, are ideal. In the areas where cold materials such as glass or metal dominate, and there is a contemporary touch, a spicy scent or a cedar perfume is recommended to warm up the atmosphere. For areas with world references and lots of wood, the choice goes on an aroma of amber and musk.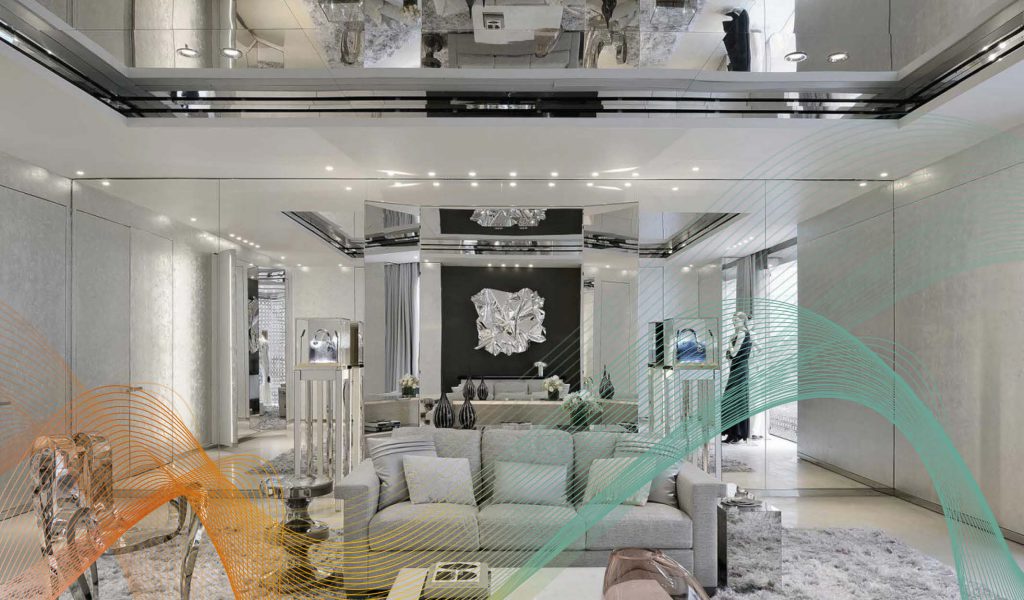 If we want to create an olfactory journey or an olfactory scenography within the store, here is a practical example.
The entrance, the store's business card, should welcomed you with a light, familiar and reassuring perfume, like citrus fruits, whose essences increase the attention threshold and create harmonious contexts. An orange fragrance helps to create a warm, reassuring, trustworthy and hospitable setting.
In bathrooms and dressing rooms, fresh, relaxing, green fragrances should reign, like basil, lavender, marjoram, rosemary, wild mint or Indian verbena. In the bathroom, the rose essence is also recommended for those who prefers floral notes, or sandalwood for wood notes.
In the showroom area, relaxing and light essences of pink or white flowers should predominate, such as lily of the valley, jasmine or lily. During festivities, the green apple and spices such as cinnamon, perhaps combined with orange, are very popular, since their ingredients are reminiscent of Christmas atmospheres and bring joy. Vanilla, on the other hand, calmes anxiety and provides a sort of contentment, as well as the rose, which is notoriously soothing, especially if dissused around mid-day. Green tea instead has an emotional stimulation capacity, ideal for wellness centers or showrooms.
The olfactory signature or the olfactory scenography in the store have the same value – and the same commitment from the creator – of an eau de parfum, as a small work of art that helps to change the perception of what surrounds us and that provokes emotions.
Scent Company is proud to have designed the olfactory branding project of one of the most important luxury brands: Dior.
The brand needed to explore the incredible possibilities found in tapping into their customers's olfactory sense diffusing inside the stores (through hidden high-tech scent-diffusers) a tailored signature scent which takes inspiration from one of most famous Dior Eau de Parfum.
There is nothing more entrancing than linking all the elements atmospherically in a consistent way in a store ― colors, architecture, ambiance, displays and aroma ― so that the look, feel and scent are all related.
---
For more information on how to create your own signature scent, visit our  Olfactory Branding page or please, contact us
  – Scent Company, Bergamo, Italy–